Electronic Security Systems & Sensors,
​Electronics R&D - New Product Dev.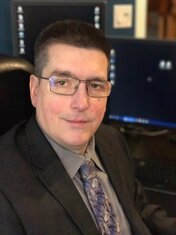 Over 35 years' in-depth experience in Electronic Security, System, Sensor & Component research, design and development. "Hands on" to senior executive levels.
Past Vice President of Engineering for Tyco Security Products / Digital Security Controls (DSC), a leading global manufacturer of electronic security systems and components with sales exceeding ~$400 million annually (
tyco
acquired
DSC
in 2001).
Hundreds of products researched, developed and released including Wired and Wireless Security Systems, Control Panels, Motion Detectors, Smart Solar LED Lighting and many more similar devices.
​Experienced with the complete new product development cycle. From initial concept to mature production.
Named Inventor on over
25+ Patents
. Experienced in the Patent identification & filing process.
​Experienced with Arbitration, Civil, Criminal & Patent litigation including
Inter Partes Reviews (IPR's)
.
---
Client List: Cravath, Swaine & Moore | Weil, Gotshal & Manges | Fish & Richardson | Duane Morris | Cooley
Hunton & Williams | Freitas, Angell & Weinberg | Langdon and Emison | Tadlock | Devlin Law
Mitchell Williams | Stratum Law | Bryan Cave | Morgan Lewis & Bockius | Akerman | Baker Botts
2GIG Technologies | Nest Labs (Google) | Alarm.com | AT&T Digital Life | Coleman Research
Lowe's Companies | MD Security Solutions | SecureNet Technologies | Secured Structures
Telular Corporation | Skybell Technologies | Zonoff Inc. | Zmodo Technology | ITX Security Co.
Areas of Expertise:
---
​Burglar Alarm Security Systems

Wired, Wireless and Hybrid Security Alarm Systems, Sensors
and supporting pheripherials

Intrusion Detection Systems

Premise Monitoring Systems

Smoke and Fire Alarm Systems

Integrated Security Systems

Video Monitoring (CCTV) and Verification with Security

Audio Listen In, Intercom,
Paging with Security

Access Control with Security

Home Automation with Security

Occupancy Detection Systems

Alarm Control Panels, Intrusion Control Panels, Alarm System Controllers, Control Devices

Keypads, Zone Expanders, Wireless Rx/Tx, I/O Modules, Sensors, Digital Dialers and Alternate Communicators.

Motion Detectors, PIR (Passive InfraRed) Fresnel & Mirror Optic,
µW Doppler (X/K Band Microwave)

Smoke Detectors, Heat Detectors

​Door and Window Sensors

​Glassbreak Detectors, Vibration and Shock Sensors



​Electronic Security System and Sensor Design – Wired and Wireless

Electronic Circuit Design (Analog, Digital and RF)

Embedded Controllers (CPU/MCU) (Zilog Z8/eZ8, Microchip PIC, etc.)

​Software Coding (Assembler/C)
10's of thousands lines coded

Circuit Simulations and Analysis

Narrowband RF wireless (433Mhz)

Spread Spectrum (902-928 Mhz)

Battery Charging and Protection (CC/CV, LiFePO4, Li-Poly, etc.)

Low voltage (control) systems

Alarm System Monitoring & Communications to Central Station.

Alarm Signaling Technology Cellular, Land Line, Long Range VHF/UHF Radio and more...

Security Network Protocols (AML, Wireless, Keybus, Combus)

Personal Emergency Response System (P.E.R.S.)

False Alarm Reduction Modules

​SOHO PBX Telephone Systems
(Small Office / Home Office)


​New Product Development (NPD)

Product Research & Development

Electronic Product Design

Engineering Management

Speed To Market

Design for Manufacturability

Design for Reliability

Cost Reduction Programs

Compliance & Agency Approvals

Environmental Immunity (ESD/EFT)

Radiated & Conducted Immunity

False Alarm Immunity

Plastic Enclosure (Tooling) Design for Production Injection Molding

Mixed Mode ASIC Development

Electronic (Smart) Thermostats

Solar Cell Charging Circuitry
Maximum Power Point Tracking

Energy Management Systems

LED Driver & Control Circuitry

Solar Powered LED Lighting (Patio to Street Level)

​Telephone, Thermostat, X-10 (PLC) Interactive Interface with Security
---